Shawn til Dawn
About: "TIL DAWN"
My goal is to make hit records.  I want to hear my songs on the radio, at parties, in stadiums, every all over the world.  Whether it occurs as a songwriter, producer, artists or executive this is my dream.  Artists and careers that I have been influenced by or relate to include, Sean "Puffy" Combs, Kanye, Drake, Fabolous, Cool n Dre.
I'm an internationally traveling, college educated, hip hop/club head.  I've been blessed with opportunities to perform on WGN Morning News 3 times, the House of Blues, Puerto Rican Festival in Chicago and 50 other shows.  TiL Dawn Productions has also created hits songs that have been featured on KISS FM, 97.9 The Loop, Hot 105.5 and several other radio stations.  Currently, I'm operating my own production studio properly titled "TiL Dawn Productions" and offer studio time for vocal recordings.  People come to me because they know I will use every tool I own to make their song as good as possible, whether its dropping the beat out, using autotunes, chopping and screwing the hook, echo effects, or bringing in sound effects.
Being someone who is bi-racial, from the midwest, traveled to 38 out of 50 states, 7 other countries and has always had a passion for hip hop, dance, soul, pop, and world music: are all things that make my musical foresight at the head of the class.
In this blog, you will find lots of interesting material from videos, pics, stories from the road, and features for others.
Being that my goal is to make hit records, I will always welcome constructive criticism (good or bad) about my records, websites or appeal.  I can be reached at tildawnproductions@gmail.com
I'm always on facebook and please subscribe to my videos on youtube .  Thank you so much for your time! it is appreciated
CHECK OUT MY LATEST MIXTAPE......"THE FRESHNESS"....FREE DOWNLOAD
01 Put em Up - Shawn til Dawn, Cenzo, Big Hit Buda, Yung Buddy
02 RETHICKULOUS
03 Across The Room - ft. J. Beale
04 6'7' Remix
05 10 Commandments
06 TRACKZILLA - ft. PRism, Sam I Am
07 Black & Yellow (The Freshness Mix)
08 SuperMan Tonight
09 Beautiful Brazil - ft. Don Kalito
10 Lemon Light (remix) - Guia Rivera ft. Shawn til Dawn
11 Vlado's
You can listen to the whole mixtape (approx 34 min) in another window by clicking
here
Album: EXCLUSIVES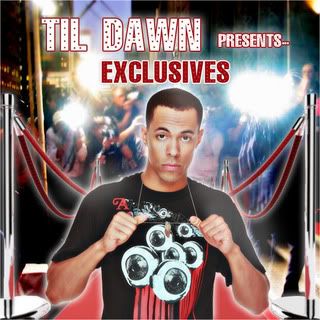 The mixtape starts off with one of my favorite songs to perform live SHOOTING STAR (REMIX) - TIL DAWN & J BECK.  Then we pop off 3 dope original tracks GO ROUND by SPEAKEASY - PUERTO RICO - TIL DAWN FT. PRISM...then EGOISTA by PRISM a solid reggaeton dance track.  I have always wanted to rap on a #1 single and I got that opportunity via discovering the instrumental to BOOM BOOM POW (remix) by TIL DAWN.  Fans have said I go toe-to-toe with style and delivery compared to the BLACK EYED PEAS verses.  Download the track and you be the judge.
The tracks with the most buzz other than PUERTO RICO are AGE OF CHANGE - TIL DAWN, KIDD RUSSELL, & J BECK, a song in which conscious hip hop meets jazz and blues.  MANDINGO (BIG EGO REMIX) - TIL DAWN an absolutely hilarious parody which has fans all over rolling and Track #9 from JANKY.  He delivers a cadillac classic with THAT B*TCH SMELL GOOD by JANKY a tribute to his fallen brother and Pimp C.  Big Hit Buda let's his voice be heard loud and clear in BudaSaurusREX by BIG HIT BUDA.
The mixtape definitely represents my improved emcee skills and ear for good music.  I am humbled and thankful for your download and feedback.
you can either download the whole album in a zip file by clicking here or you can download individual tracks here
If you would like to be added to our newsletter please send us your email below.  Thank you times 1000